Are you mad for trad? If so, Gogartys Live Irish Music Bar is the place for you! Live Traditional Irish Music sessions run allmost non stop in Gogartys with sessions running from 2.30 pm until 2am seven days a week! So come on down and join the fun today!
Our musicians have collaborated with Steven Leech and proprietor Martin Keane to record a DVD of an evening at Gogartys and 2 albums of traditional music and ballads, these CDs are available to buy in Gogartys should you wish to bring a memento of your stay home with you.
Live Music Sessions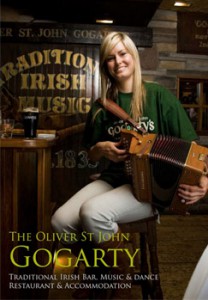 Upstairs at Gogartys
Monday to Friday
2.30pm-2.00am Mon-Sat
No cover charge

Spontaneous Irish music sessions can start at any time in the main bar downstairs.
5 nights a week! Every Sunday to Thursday from 10pm till 12.30am in Gogarty's Library Bar. No cover charge! So come along and enjoy the best Irish Ballads, Folk & Celtic Rock in one of Dublin's most celebrated and intimate venues.